Rescue team Slovakia
Veľká okružná 24, 010 01 Žilina
Mobil: 0902 240 400, Email: 112@112.sk
Našim cieľom je, aby každý žiak na základnej škole mal možnosť učiť sa z preventívno-vzdelávacieho časopisu Mladý záchranár. Aby sa naše deti domov vracali každý deň živé a zdravé.
Pridajte sa k nám a pomôžte aj Vy! Spolu to dokážeme!
Deti si to zaslúžia.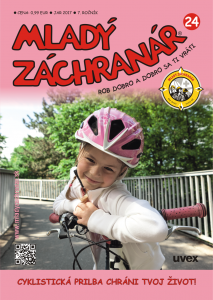 SPOLU ZACHRÁNIME NEJEDEN ĽUDSKÝ ŽIVOT, DETSKÝ AJ DOSPELÝ!
MOŽNO AJ MÔJ, MOŽNO AJ TVOJ…OPLATÍ SA TO?